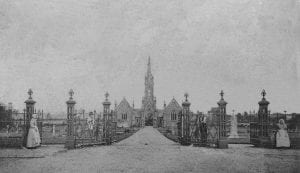 The cemetery opened in 1867 and contains a wealth of monuments dating from that time to the present day. The building featured in the photographs is the chapel of rest which was designed by the architects Bellamy and Hardy of Lincoln. The well maintained cemetery is a haven of peace and quiet and, for those with an interest in family history or social history, the monuments are a rich source of information.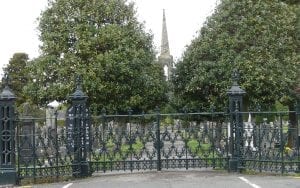 The Society has transcribed the burial registers and the monumental inscriptions for Middlewich Cemetery, which was opened in 1867. NB. This does not include records for the parish church burial ground, the memorial inscriptions of which are available on microfiche at The Family History Society of Cheshire Research Centre at Alderley Edge

There are two sets of records; the Burial Registers and the names on the memorials in the cemetery. The lists of surnames recorded are shown in the following files:
Surnames in the Burial Register of the Middlewich Cemetery
Surnames on Memorials in the Middlewich Cemetery
The names on memorials may record people who are not buried in the cemetery (for example, relatives who were killed in WWI and who are buried in France or relatives who had moved away from Middlewich and are buried elsewhere) and the names in the burial register will include people who do not have a memorial.
We will carry out a free search of the records for you if you tell us the surname and date range of the persons for whom you are looking and will then tell you how many entries match your criteria and the costs of purchasing them.
Please email your request to middlewich.heritage.society@googlemail.com
If there is a monument in the cemetery we can email a jpg image of a photograph of the grave if you wish to purchase it.
Should you wish to purchase any of the detailed information we will email jpg images of the appropriate entries in the burial register and/or of the monument(s) in the cemetery.There will be a basic charge of £1.00, plus 25p for each image from the registers and 50p for each image of a monumental inscription.
If you would like to visit the cemetery, please download and print the cemetery tour leaflet   which contains a guide to a small selection of representative monuments.
Middlewich Heritage Society Home Page