Resources
Middlewich Town Council has been involved in Heritage and learning projects for ten years. In that time we have worked with schools, community groups, local authorities and businesses in understanding our local environment and connections with other townships.
From these projects we have created a permanent database, exhibitions & displays, events, archive, school resource packs, this website and trails. Take a look below at our range of programmes, session plans and local information which teachers should find useful for local history studies in Cheshire.
We cover many subjects including History (Romans, the Industrial Revolution and WW2 etc.) We also look at Geography, Science, Art and English. Under Canal and Salt,  there are six session plans contained within the Schools Pack and a trail leaflet. Teacher's pictorial references are under the picture gallery.
Under Middlewich & The Great War section, we also have five session plans contained in the Schools Pack and further resources are available to accompany these.
For a list of our activities, please follow the links in the articles below.
Activities
The schools section works with the Canal & Salt Project information and breaks it down into themes; making it more user friendly for teachers. The worksheets are suggestions of how you can run class activities and produce work focusing on the pupil/school environment and curriculum areas.
Further resources will be made available to participating schools such as; the Wych and Water Booklet, Audio CD and CD of copyrighted photographs for school use only.
Please click on the links below to open up the worksheets.
School Sheet 1 - Using photographic references
School Sheet 2 - The trail quiz
School Sheet 3 - Design your own boat
School Sheet 4 - How salt is made
School Sheet 5 - Middlewich salt destinations
School Sheet 6 - Story-time: A tale of two horses.......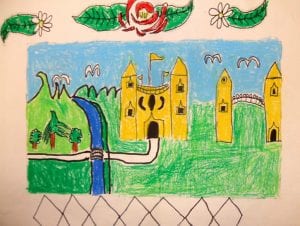 Picture Gallery
Please note that all photographs on this website are copyrighted.
Design Your Own Boat
Click on any image for a larger view in a new window:
The schools section works with the War at Home Project information and it breaks it down into themes; making it more user friendly for teachers. The worksheets are suggestions of how you can run class activities and produce work focusing on the pupils/school environment and National Strategy areas.
Further resources for teachers (contact the Heritage Officer, Middlewich Town Council):
"Middlewich at War" by Allan Earl. A year to year diary of how Middlewich town and it's people coped with war.
Copyrighted photographs and information contained on this website
Handling/Display objects to show to class.
CD "War at Home" with interviews and songs.
Requested access to interview material for school work.
Please click on the links below to open the required worksheets:
The Middlewich and The Great War project commemorated the 100th anniversary of the outbreak of WW1. It remembers those who fought and worked so hard for victory and peace in the "war to end all wars", and also looked to the impact that this era made, such as the role of women in society, medical advancements and scientific discoveries, to name a few.
This project is intended to provide a reference for all who wish to know more about The Great War.
This Great War Project will continue to collect informnation over the next four years. We are keen to know about Middlewich people serving in WWI and also wish to hear about today's residents and families.
To take part in the project simply:
Phone 01606 833434, or

Call in at the Town Hall, Victoria Building, Lewin Street, Middlewich, CW10 9AS
Click for teachers guide. 
Roman Fort and Settlement archaeological evidence has been placed under the care of the Cheshire Museum Service and Chester Grosvenor Museum. Some of the 'finds' uncovered in Middlewich are currently on display at Middlewich Library.
Artefacts on display include:
The Middlewich hoard of silver denarii

Roman military discharge diploma

Examples of Samianware and other locally made pottery items

Leather shoes

Large amphora from Spain

Brooches and much more...
Information panels tell you about the development of the settlement and a life size model of a Roman Auxiliary Soldier shows what they would have been wearing in Britain.
The Library is open:
                                           Monday           9.30am –  5pm
                                           Tuesday           9.30am – 5pm
                                           Wednesday     Closed
                                           Thursday         9.30am - 7pm
                                           Friday              9.30am - 5pm
                                           Saturday         9.30am - 1pm
                                           Sunday           Closed
Address: Middlewich Library, Lewin Street, Middlewich CW10 9AS
Telephone: 01606 288070
fax: 01606 833336
Email: Middlewich.library@cheshireeast.gov.uk
For more library details and future events click the link cheshireeast.gov.uk/libraries to take you straight to the Middlewich Library section on the Cheshire East website.
The council resources offer a chance to explore the ancient town of Middlewich through trails and show & tell activities to gain a special insight into a historical Salt Town in Cheshire.
Resources the council have to offer are as follows:
Roman Trails - Starting from the Library Roman Display, discover the settlements of the Cornovii tribe, the Roman Army and Romanised traders. (1.5 hour approx duration)
Canal and Salt Trail – A walk to the sites that made Middlewich what it is today, an industrial revelation! Pathways used on the route, some road crossing, towpath. Easy walking, however there is a low bridge and bank when it comes to approaching the lock, an alternative path is available if required. We pass some fantastic wildlife sites! (2 hours approx duration)
Town Trails – Nice short trail through our historical town, informative and fact packed! Good for younger children who are studying their local area and can be adapted to work with your class subjects. (1 hour approx duration)
Special tour of St Michael and All Angels – Learn about the history of the church, its people and its place in the community, great opportunity to see the church in all its glory and explore. (40 mins approx duration)
Roman Middlewich School Resource Box and Teaching Pack - These are available for loan.
Roman Artefacts - These are on public display at Middlewich Library.
Objects can be brought into school for Show and Tell, we also demonstrate salt-making and each year we work with the Fly-Boat 'Saturn'. The Fly- Boat is in Middlewich on the second week in June, supporting the Middlewich FAB Festival. Activities allow children to step on board in the cabin, explore cargo transport, how horses worked, rope work, making a canal plate etc.
The tours are free to schools and have a general trail risk assessment; a separate risk assessment is done for the 'Saturn' visit.
For further information and to book resources please contact: Kerry Fletcher BA (Hons), Heritage Development Officer,
Room 1 Victoria Building, Lewin Street, Middlewich. CW10 9AS 01606 833434
Archaeological finds from the Roman occupation at Middlewich have been made for over 250 years. Over the course of that time, theories about the Roman settlement have been discussed and the site of the Roman Fort debated amongst the land owners, residents and professionals.
The first conclusive evidence of a Roman Fort was not found until 1993, when a geophysical survey of Harbutts Field was carried out, clearly showing the defensive ditches and gateways.
The archaeological evidence of Roman occupation from numerous digs over the years has enabled Middlewich Town Council to introduce a range of learning resources to schools.
We can offer:
A Guided Roman Middlewich Trail
Archaeological exhibition at Middlewich Library
Demonstration of how the Romans made salt
A school resource pack that includes: A Teacher's Information Pack with illustrations, Replica Roman items from everyday life, pieces of actual 'Finds' from the Roman Town, a narrated recording of the Story of Roman Middlewich, a Roman Middlewich reference book and illustrations of what we consider the Middlewich area looked like.
A school visit by trained guides: To bring along some items from the community dig and enable children to see and handle archaeological finds.
For the 'virtual dig', go online and follow the links via 'Early Middlewich' and click onto the archaeology tab, to get to the virtual dig programme. Created by South Cheshire College, the programme is designed for children to understand more about the process of finding and learning about a particular item. We also have timeline information, archaeology reports and a virtual tour, all on line at www.middlewich-heritage.org.uk.
We link into the history/local history curriculum and through the resources we encourage debate, questioning and listening skills. Related subjects include Science, Geography and Art & Design.
For further information and to book resources please contact: Kerry Fletcher BA (Hons), Heritage Development Officer,
Room 1 Victoria Building, Lewin Street, Middlewich. CW10 9AS 01606 833434
heritage@middlewich.org.uk