BUCKLEY'S FIELD - SITE DESCRIPTION
The site, a rectangular field known as Buckley's Field, is roughly 0.7 hectares in size and oriented northwest-southeast. The field is situated between King Street to the east and the River Croco to the west, centred on NGR SJ 705 665 (Figure 1). The site is bounded to the north and east by modern housing, to the south by an overgrown hedgerow, and to the west by a high brick wall beyond which lies Cheshire House and the canal. The site is approached via a single lane track which runs southwest from King Street, running along the north-western edge of the field. Adjacent to the southern edge of the track between King Street and the site there is a narrow verge of overgrown waste-ground.
The scheduled site of a Roman fort at Harbutt's Field lies around 0.4km to the northwest of Buckley's Field.
An interactive aerial photograph of the site location is available here.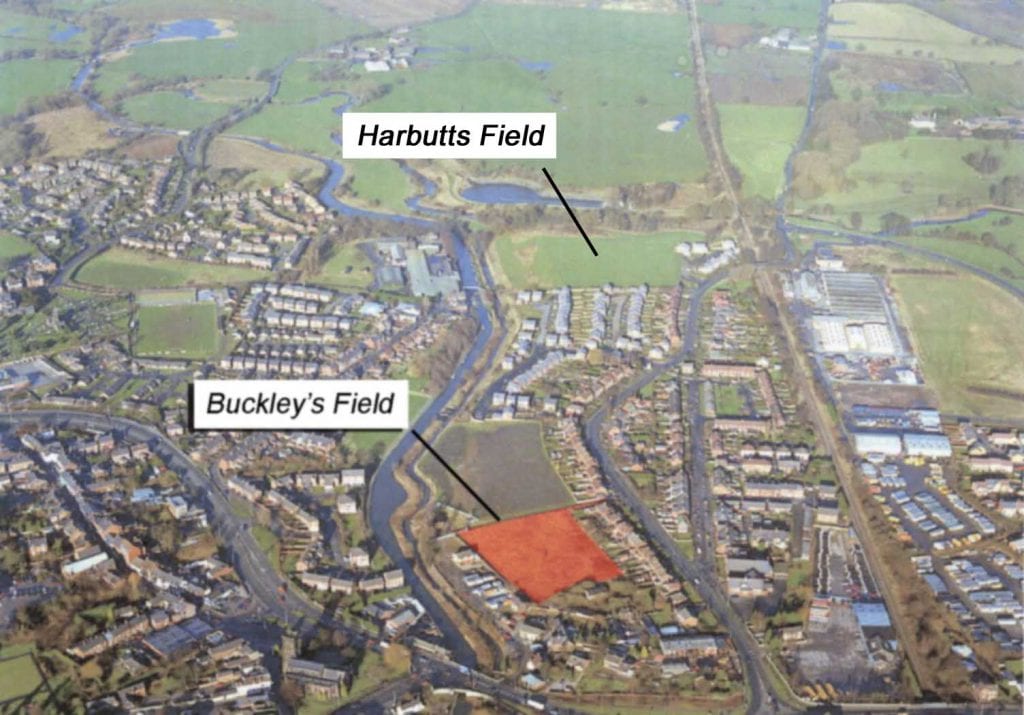 The geology of the site comprises Triassic Mudstone of the Mercia Group (formerly known as Keuper Marl) with overlying undifferentiated River Terrace Deposits and Alluvium (GeoIndex). The Triassic Period lasted from approximately 251 to 199 million years ago, during which time sediments such as clays and sands were deposited across what is now Cheshire. Over time these have formed red-coloured mudstones and sandstones (sedimentary rocks) and lie on top of rocksalt beds which can be up to 30m thick.
The alluvium and river terrace deposits which overlie this bedrock comprise sands and gravels derived from the action of retreating glaciers and fine particles carried by former water courses.
For more information on the Triassic Period and the deposition of sedimentary rock in Cheshire, see here.
The site is generally flat at around 33m Above Ordnance Datum (AOD, meaning 'above sea level' – in the UK sea level is determined as the average sea level at Newlyn, Cornwall), but along the southwest edge of the site there is a distinct terrace which slopes down towards the River Croco. The access track leading to Buckley's Field from King Street passes over a slight camber, which appears to be running parallel with King Street.