FAMILY MEMBERS AND MIDDLEWICH PEOPLE
This article contans documents, portraits and photographs of family members either Middlewich men or brought in by today's Middlewich residents. We are still collecting and would appreciate anyone who has information to contact us.
Click on a name to view documents and photos: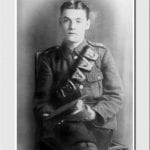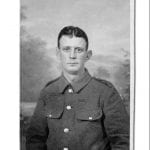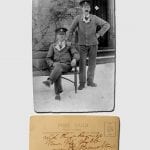 Richard Buckley with an unknown soldier. Photos from Colin Brereton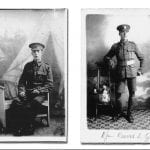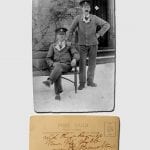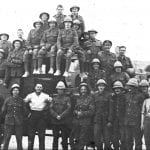 Army photograph shows Ben 3rd from right on the front row. Photo from Jean Richards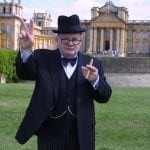 George Broome, son of Arthur and Margaret, Uncle to Eileen Taylor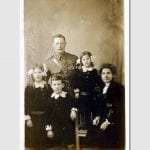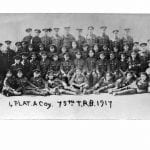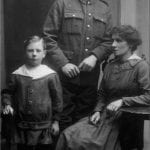 James Henry Fox with his wife Sarah and eldest son George April 1916.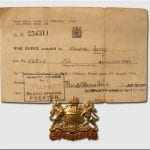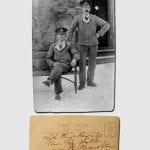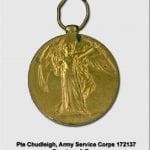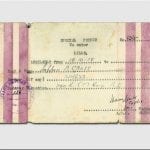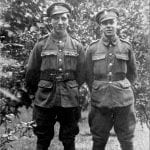 Walter Gardner and Cyril Baker
Pte Patrick Hazell was captured in France on Wakes Tuesday 1914 and wrote to the comforts committee on one of the postcards he had received in his Christmas Parcel, as follows:
(Got card dated 24th Dec 1914. 5 ½ ins x 3ins)
"Dear Friends of Middlewich. I am very pleased to receive the contents that you have sent round to all soldiers and sailors of Middlewich. Well I don't know how to thank you for it is a present I shall treasure all my life. I am sorry to say that I should be a prisoner of war when I receive such a splendid present but it is pleasing to me that though we are out of sight we are still in the minds of our Middlewich friends. I will be too late to wish all the people a merry Christmas but I wish them all a happy New Year. I received all the contents only the pipe and matches they took the pipe because they don't allow us to smoke. I hope the war will soon be over as it is not very pleasant here as a prisoner. I have no more to say only to thank the committee for the kindness they have done me. I received the parcel on the 23rd of December so I am writing back without delay. I remain one of the many who is having hard times. From Patrick Hazel Hamelin-A-Weser Germany"
Pte Patrick Hazell to his sister "I was captured on wakes Tuesday, only 29 men survived out of 3 companies, we can only write 1 letter a week on a Sunday and a postcard on Wednesday. 1 loaf has to last 3 days, coffee for breakfast then tea and soup for dinner, Jimmy Clewes was with us the day before I was captured, his company went to our left, if you are sending something let it be food and not tobacco"
The Christmas card read:
From the Ancient Town of Middlewich to the Gallant sons at home and abroad, who have answered the call and are fighting or eager to flight on sea or on land, for liberty, for freedom, for motherland and home, wishing them a Happy Christmas and a joyful homecoming.
God save the King
1915
Diary entry
The news from the Dardanelles was very disturbing, the loses were heavy among the British Troops at the landings at Cape Helles on April 26th and the allies advance on Gallipoli in June. Part of the allied army consisted of infantry battalions from Australia; in June 1915 Mr Higginson of the chronicle office received a letter from corporal Whittingham of Middlewich who wrote… "We left the camp in Wales in the early morning and reached our destination at 12.40pm, and then we were marched straight to the boat. I believe we were the first of Kitchener's Army to go out although I am not quite sure. We sailed at 10pm but we were obliged to come back as it wasn't safe. Every man slept on deck with his lifebelt on, you can imagine how much sleep they got. We stayed in port 2 days and at midnight went out full steam it was an anxious time, going like mad all in pitch darkness. We didn't know where we were going and it wasn't a very nice feeling to think any minute you would be providing a meal for fishes at the pleasure of the German Submarines. When day broke we felt at ease. We slept on deck every night and reached here a week from the day we started. The fighting in the Dardanelles has been very fierce and the losses great. I am sending you an account of the landing, also how we bring the wounded from the field. No one can imagine the sight, and you need nerves of steel to see the poor fellows mutilated by shot and cut to pieces by the Turks as they have lain wounded. You are a lucky chap to get out of it alive, or wounded, but during the last 2 or 3 weeks it has not been so bad the Turks having been driven further inland. The warships screened the transports which were lined up behind and at 5am the fleet opened fore and bombarded the fort to cover our landing. We had three miles to go to the shore and the men got into small boats which were drawn by pinnaces there being one pinnace to six boats. They had three miles to go to land and all this time the battleships were pouring shells into the forts, which were replying about 1 ½ miles. The enemy shells began to drop all around and in our boats doing a lot of damage and as they got closer bullets began to whip around the boats killing men galore. The ships shells could be seen tearing up the ground on shore, and the Turks could be seen running for their lives, to prove a death trap to us later. Up to this time the boats had lost six and upwards out of 30 occupants, but afterwards as the boats rushed on one ran into another and the pinnace cast them off. Then it was each boat for itself by oars. Not 100 yards from shore a machine gun got the range of boats and simply mowed down the whole lot. Shrapnel burst overhead and if a man was wounded and had another man on top, he didn't know if the latter was dead or not. One officer of the Dublin Fusiliers called on one boat, and asked seven dead men to help, but he himself was soon buried underneath the boats pierced by bullets. It was a living hell. The machine guns played on and the boats were towed back with their awful freight by a mine sweeper. Men cried like children as the boats came back. Other boats were filled with fresh troops on to be treated the same, the men could do nothing but sit and wait for death. The RAMC were shot down like rabbits they were made special targets of – The Australians gained a footing somehow, nobody knew how, they were the men who gained the landing. The Munsters were severely cut up, so were the Dublins. Nearly all the officers in every regiment were killed or wounded and several generals lost their lives. Fighting is all right but to be shot at in an open boat is awful. The Australians went mad there was no stopping them"
Amongst the Australian infantry men was a man named Albert William Harrison Harlow, he was to become vicar of Middlewich in 1939
In 1915, the 14 Middlewich men who are prisoners in Germany have had sent out to them parcels of clothing and another batch is to be despatched next week. Every fortnight a box of goods is sent to each prisoner, this week's consignment included tin of herrings, tin of salmon, tin of fruit, tin of tongue, tin of Oxo cubes, tin of cocoa & milk, packet of biscuits, current roll and two packets of cigarettes. Cost paid by the local war relief fund.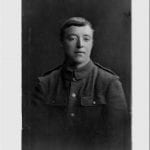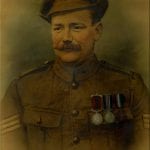 Fred Lyth, N. Staffordshire Regiment, Private 5235, died at The Somme aged 32 on 4th August 1916.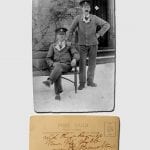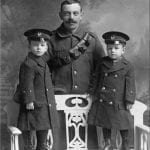 Percey Ogle family photograph 1915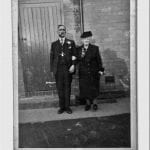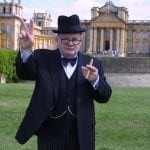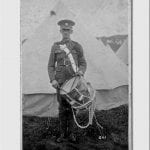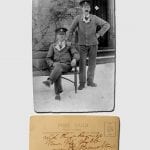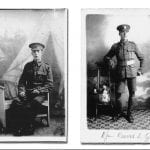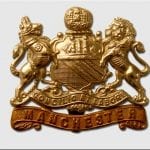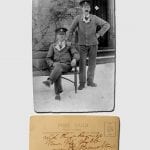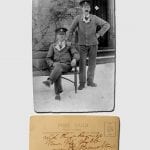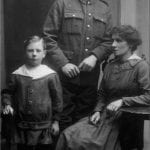 Albert Ogle: 3rd From the left without a tunic in the group photo and with his family Kate and Reg.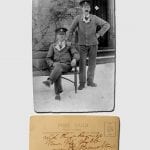 MY  GREAT  UNCLE  JAMES  SHECKLESTON
Last November I carried out an annual ritual which I have seldom missed for over 70 years.  I crossed over the canal bridge at Cledford, a mile south of Middlewich, and stood in reverence before a wall mounted concrete block.
It reads
FOR  OUR  SAKE
IN  MEMORY  OF  THOSE  WHO  ENLISTED
FROM  THESE  WORKS
AND  GAVE  THE  GREAT  SACRIFICE  IN
THE  EUROPEAN WAR
1914-1918
Among the ten names listed is that of Private J Sheckleston 5th Cheshire Regiment.
Ten names from the town of Middlewich?  No.  Ten names from the village of Cledford?  Not even that but ten names from the modest Brunner Mond Electro Bleach factory.  What unbelievable carnage.
I first started this ritual in the early 1940s when I walked over the canal bridge with my grandmother, James sister Sarah Ellen (Sheckleston) Littlemore.  Twenty years before she had organised a whip round among her brothers and sisters for a substantial blue flower vase.  Hand in hand we carried the vase and some fresh flowers and placed them on a convenient ledge.  With tears in her eyes and hurt in her heart, we took the few yards back home.
Then, on Remembrance Sunday, with my father, I would walk the mile or so to the Middlewich town cenotaph where James name is also inscribed.
James was never far from our hearts as, a while after his death, my grandmother with whom we lived, commissioned a portrait painting taken from a photograph.  It hung in her house and to it was tucked the poppies from the most recent service.  It stayed there until 1976 when my grandmother died and it came into my ownership and care.
James Sheckleston was born in 1892, the tenth child, and sixth son of James and Jemima (Griffiths) Sheckleston.    He attended Middlewich Church of England School and left when he was fourteen.  As with most of his family, he started work on a family canal boat.  In May 1912 he married Alice Postles of Forge Fields, Wheelock, but before the year was out, tragedy was to befall her.
Alice slipped off the boat and fell in the canal.  She did not drown as James quickly rescued her, but she ingested quite a lot of contaminated canal water.  Alice's body was able to cope with this, but it was too much for the foetus baby she was carrying.  The baby died and with it young Alice.
Heartbroken, James days on the canal almost immediately came to an end, and he took up employment at the Electro Bleach Works of Brunner Mond, later to become ICI.
James, still only twenty one years old, spent time with his mates, notably Bill Bailey where they went hunting the local rabbit population with their respective dogs.  Soon he was to find a new girl friend but, like so many young men of his age, he became attracted by the thrill of joining in what was known initially as the European War, and then the Great War, which had started in August 1914.
Almost immediately James and his pal Bill Bailey were attracted to the nearby horse drawn recruiting van.  It was pitched on the spare piece of land between the Kinderton Arms public house, opposite Kinderton Lock, and the 'big row' of cottages which extended to the middle of Cledford village.
They volunteered to serve their Country as there was no conscription as yet, nor was there any appreciation of what a dreadful war this would turn out to be.  After all, people said it would be all over before Christmas.  It was not possible to officially sign on at the recruiting van, more an intention, so instead of the King's shilling, they got an orange.  He was being recruited to face death.
James, along with his pal Bill Bailey, was soon enlisted into the 9th Service Battalion of the Cheshire Regiment which had been formed at Chester on 13th September 1914 , as part of Lord Kitchener's Volunteer Army.  The Cheshire Regiment was first raised in 1689 on the Roodee at Chester for service under King William III and Mary.  It's role then was to resist James II's attempt to regain the throne.  It's role now was somewhat further afield, and much more dangerous. Within days they were transported to Salisbury Plain and put under canvas, where the conditions were dreadful.  These were the very early days of recruitment, and much organisation had yet to be put into place.
The weather at the time was atrocious and the raw recruits suffered much hardship, living in tents without tent boards and located on a sea of mud.  Britain was ill prepared for War, demonstrated by bringing their own change of clothing and what today we would call a toilet bag.  When training began, NCO stripes were rigged up with pieces of tape, and "Drill Purposes" rifles were issued; clearly they were not the real thing.   As a result of the weather and the general insanitary conditions, there was a great deal of sickness so they were all soon inoculated against typhoid.  For a while their circumstances were improved by them sleeping on a bed of straw mounted on three planks and warmed by four blankets.  The only heating in the tent was a central stove and chimney.  As yet the Nissen hut had not been created.  With dimensions of 60'x 16', it was draughty and cold; after all it was a cold English winter.  There limited diet was big on bread and dripping.
On 19th December they were transferred to billets at Basingstoke; luxury indeed.  They wintered there until March 1915 when the Battalion returned to Salisbury Plain for further training.  With training completed, they left Perham Down, Andover on 18th July 1915 and taken by rail to Folkestone from where they embarked for France, landing in Boulogne on 19th.
The War Office specified a minimum of eight months training; James and his fellow soldiers barely got that much.
After what seemed days of route marches across France, the Battalion was sent to the Front in September 1915.  Small parties were taken to the Front for acclimatisation, and then they were kitted out for action, and marched as a whole to the reserve trenches at Givenchy-Festubert sector on 24th September 1915.
This War that was going to be over by Christmas 1914 was most certainly going to last much longer, and the excitement that James and Bill Bailey has foreseen was not to be experienced.
During the Winter of 1915/16, there was plenty of activity in the trenches.  Communication was not possible by field telephone lines, so it was substituted by 'runners'.  In their static front line trenches, they were less than one hundred yards from 'Fritz', as they called their German enemies. The trenches were never dug in straight lines but with right angled junctions.  Straight lines made for an easier ambush and vulnerability.  One great dread was exploding shrapnel shells which were filled with ball bearings.
James was one of the first generation of his family to be able to read and write.  Censorship apart, therefore, he was able to send letters home, all written in puce (indelible purple) pencil.
One, written in the Spring of 1916, included the following literal transcription.
….cooking in what we call a cloney. But it trouble us most because we don't get much to cook. But I don't get on so bad with the big parcels.  I think I got has many as anyone else.I am not in want of anything only I could do with two pair of thick sox and a writing pad.  Lizzie (Elizabeth Alcock Sheckleston, his sister in law) sent me a lot of writing paper and it was all spoiled when I received it.  She also sent me a shillings worth of brandy.  You ask me if I see anything of Bill Bailey. I am with him every day, only he has not got much to say.  I think he is a bit downhearted.  I have not heard anything of Jim Jinks (another volunteer from Middlewich).  I have got some good old chums from Runcorn and the old one from Altringham. If you have the old dogs photograph taken I would like one.  I often talk about him to my mates.  I hope you will look after him till I get back again and then I will get him a good collar.  Remember me to all the boys I know.  I will close with kind regards from your affectionate Brother Jim to All.
George & Horace x x x  (My grandmother's two young sons)..
If an Army marches on its stomach, these soldiers were sustained on bread which was anything up to eight days old, with a choice of fillings; tinned corned beef, known as bully beef, or jam.
While all this was going on, preparations were being made for what became known as the Somme Offensive.  This was launched on 1st July 1916.  Goodness knows what form the preparation took as 15,000 soldiers were killed before breakfast on the first morning.  It was the innocent killing the innocent.
On 4th July 1916, three days after the Somme offensive had commenced, James and his colleagues participated in an attack on La Boiselle, losing almost 200 men.  It was crazy.
The ultimate attack for James was planned in great detail as the papers I have shows; they comprise eighteen typed pages in all.  I will just quote "The Objective" and the conclusion at Pont de Nieppes.
OBJECT
The object of the enterprise is to force an entry into the enemy front and support trenches ; to capture prisoners, obtain identifications, and do as much damage as possible.
This operation is to looked upon as a an attack and not a raid, although the Company carrying it out is to return to our own trenches on completion of their task.
REPORT ON PONT DE NIEPPE
On the night of 15/16th a raid against the enemys (sic) trenches was attempted.  The effort was unsuccessful.  Orders, maps, photographs and reports are attached.  The casualties amounted to G S Pitts-Tucker,2nd Lieutenant N E Corbishley, 2nd Lieutenant M J M Griffith wounded, 3 OR (Other ranks killed, 12 wounded and 2 OR missing believed killed.
Quite what it meant to achieve is beyond me.  Including other groups, there were relatively a few score of soldiers, spread out along a thin line, who were going to leap out of the safety of their trenches and charge the enemy lines across open country.  As a bomber, James was armed with 12 bombs (two haversacks over each shoulder), a revolver and 24 rounds of ammunition, and a knobkerrie, a short knob headed stick copied off the Hottentots tribes by the British when fighting hand to hand in the South African War more than a decade earlier.   Almost certainly many of them were going to die, and for what purpose?  In the big order of things I judged it to be irrelevant, yet it was going to cost my Great Uncle, and many others, their lives because the operation turned out to be a disaster.  It was like something out of a Boy Scouts Annual.  The fact that others of our ancestors further along the trenches, and our enemies too, were going to do likewise makes it no less stupid.
How can we tell James state of mind?  He had lost a mother; lost a wife; lost a best pal; lost many comrades; he was too often cold, wet, lacking comfortable sleep and hungry. Did his life matter any more?  Forlorn and fortified with the Dutch Courage of a tot of whiskey, to keep the cold out, said his superiors dishonestly, James was going to leap out of the trench just like his comrades.
James Sheckleston was a Bomber whose role was to carry twelve bombs (hand grenades) in bomb bags.  The plan was to run on open land towards the enemies and throw these bombs into their trenches. Their only cover was darkness.   If it wasn't to be so tragic, it was to be laughable and futile.  Were not the lives of these soldiers worth more than that?
Unsurprisingly the Germans were expecting them and opened fire with machine guns and trench mortar fire.  18 soldiers were killed, to be more specific they were shot dead by their German counterparts.  Those killed included my Great Uncle Lance Corporal James Sheckleston , 17514 of the 9th Battalion of the Cheshire Regiment; he was twenty four years old.
By the post of 2nd October 1916, the letter dreaded by so many families, landed on his widowed father's door mat.  One can only guess at the grief it brought to the close knit family.
James is buried at the Rifle Brigade Cemetery near to Ploegsteert, South of Ypres in Belgium (Flanders).  It became known colloquially by the soldiers as 'Plug Street'.  My wife and I have visited his grave on a number of occasions, as has our eldest grandson on a school trip to the Battle Fields.
In this area almost every bend in the road  reveals these small cemeteries hidden in cornfields, in orchards, and in copses.  There are nearly 3,000 cemeteries in France.  Each has the identical row of  white headstones, nearly all bearing a name, regiment and rank.  They are tended by gardeners, nearly 400 hundred of them, employed by the Commonwealth War Graves Commission, the idea of one Fabian Ware.
In some cases identification was not possible, so their headstones are inscribed "Known Unto God", a phrase contributed by Rudyard Kipling , whose own son had disappeared in this way.
In each cemetery, safely and securely kept in a brick 'oven' by the entrance is a printed book with the name of every soldier known to be there, his parents name and his address.  A visit is some experience.
James mother had pre-deceased him by eight years, and his father was elderly.  James eldest sister, my grandmother Sarah Ellen (Sheckleston) Littlemore was now effectively the head of the household.  Grieving as she most certainly was, there was another concern which entered her head and that was "Was my brother really killed in action or was he, like so many soldiers at this time, shot by a firing squad for cowardice?"
The former, however sad, was "With Honour", while the latter was unreasonably seen as a stain on the name of the family.  This was usually referred to as "Showing the White Feather".
Some days after the news had come through that my Great Uncle had been killed, shot by the enemy, my Grandmother, now aged 35 and with two young children, heard that a soldier from his Company had been travelling on 'The Dodger'.  This was the colloquial name given to a local train which ran continuously on the single track line between Crewe and Northwich, via Middlewich.  Further her informant said the soldier was travelling to Northwich.
It was typical of my Grandmother that she left her two little sons, one aged six and the other, to be my father, aged one, with her sister in law and set off for Northwich on this same two carriage train to try to find this soldier.
She told me she asked everyone who looked as though they possibly be able to help her; pedestrians, policemen, shopkeepers; indeed anyone, but all to no avail.  The October night was drawing in, and dusk was imminent; the last train for the day had departed.
Rather like the fisherman's last cast of the day, my Grandmother resolved that the lady coming along the street would be her final attempt to find the whereabouts of the elusive soldier.  Joy of Joys; the lady told her of a soldier who had just returned from the Front, but all she knew, he lived in the Castle area of Northwich.
For those unfamiliar with the geography of Northwich, the town centre is by the River and the Castle district is as high as the surrounding land gets.; just the sort of climb you want at the end of an exhausting day. With renewed energy she set off and soon her determination was rewarded; she found the soldier who had been wounded and was on leave.
He was, indeed, part of the raid which included my Great Uncle James, and he was able to confirm that they had been ambushed by the Germans, and 18 of them had been shot dead in action.  He had died with Honour.
No less sad, but so much prouder, my Grandmother then set off the nine or so miles back home to Cledford, where she was able to share the news with her brothers and sisters.
That might have been the end of the story but there are just three remaining anecdote to narrate.
Before she died, in 1976, my grandmother passed to me the items which she held which were associated with her brother's untimely death; his papers, photograph, medals, letters and a funeral card.  Most notable is a pocket notebook.  I treasure them.
In this notebook is listed, among other things, the names, numbers and home addresses of his pals. They are mainly from the Altrincham and Runcorn area.  All the soldiers did this, with a solemn promise to look up their kin if they were not to return from the War.  Sadly many of the entries had a line through them.
One entry is headed "No 3 Section No 9 Platoon C Coy"  Below is listed James Sheckleston, Section Commander and twelve colleagues.  They were all bombers.  He had drawn up this list on 2nd July 1916, and subsequently six of the names had a line drawn through them; every one a close comrade.  These included Private J Walker of White House Farm, Bagley, Altrincham, who was his best pal.
Poignantly the hard cover of the notebook is substantially stained nearly black.  It was only after having had this for some years that the realisation suddenly struck me; this stain was the blood of my Great Uncle which had been shed for his Country.  What if the bullet had been just a couple of inches lower on his breast pocket; would it have saved his life?
I also hold James personally inscribed copy of the 'Gospel of Saint John', containing a Soldier's Prayer, from the Rector of Weston-super-Mare.
After James' wife Alice died, he started an acquaintance with a distant relative of my father, Elizabeth Littlemore.  Before he went to War, he gave this young lady a silver locket in which he had put a forget-me-not.  Over seventy years later, and quite by chance, I was in conversation with the elderly daughter of the recipient.   I knew nothing of this story, and was thrilled when, at our next meeting, she brought it along to show me.
Finally what became of James' mate Bill Bailey with whom James had enlisted?  When I tell you I knew him, and recollect him singing tenor in the augmented Chapel Choir at the Sunday School Anniversary, you will realise he survived the Great War.  Such is life.
Allan Littlemore
Sandbach
December 2013.
Bibliography
Family Records                                  Family Memorabilia                Cheshire Regiment Association
Rifle Brigade Cemetery                      Cheshire BMD                                    Middlewich Cenotaph
Mrs Freda Hendy                    Brunner Mond Memorial         Cheshire Regiment Museum
The Commonwealth War Graves Commission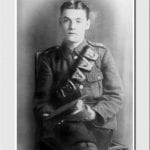 Alec Smith, Cheshire Regiment won the DCM. Photos from his grandson Jim Smith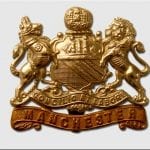 James Taylor1914-1918 Royal Army Medical Corp. Born 1897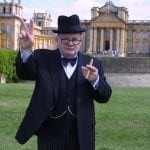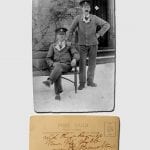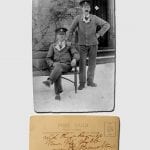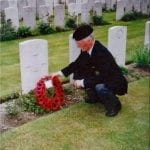 William Stedman, 23507 Lcpl 3rd Rifle Brigade. His grave is at Wimereux Cemetery.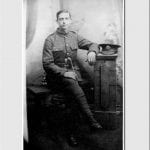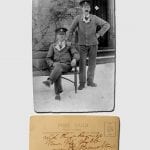 Geoerge Wilding was from Anderton, his family worked at ICI and the Anderton Basin.