WW2 Exhibition Boards
The interpretation boards displayed at the Middlewich WW2 Festival were based on the work of our local historian Allan Earl and the memories of 57 people interviewed by Sylvia Walton and Heritage Officer Kerry Fletcher, with the help of volunteers. The shared information and collection of material has made great advances in understanding the role of Middlewich and its people in WW2.
(See Allan Earl's 'Middlewich at War' booklet in the further reading and book shop sections). The Byley Aerodrome board was completed with the help of Allan Earl, Gerald Coates of 'Firmin Coates', English Monument record and Mrs Wheatley.
Byley Aerodrome Photographs
Photographs include: Aerial photograph of Byley Airfield 1945. The Vickers Armstrong hangers and work areas, as seen today. A map of the Byley airfield in 1945.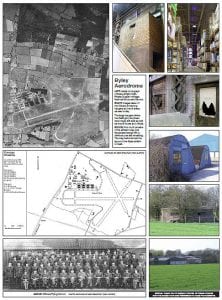 The Middlewich Times
A fascinating newspaper style 13 page account of Middlewich and it residents during World War 2, complete with authentic adverts from the period. 
Each page carries it's own theme, examples include ,Saving & Fundraisers, The story of HMS Jasper (the ship that Middlewich built) and Middlewich Home Guard Established.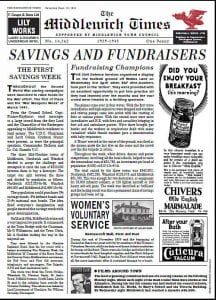 Middlewich Urban District Council Noticeboard (1)
Air Raid Precautions
Local photographs
How A British Soldier of 1939 Goes to War
Hawker Hurricane cutaway drawing
Rationing
Cigarette Cards
King's letter to schoolchildren
Middlewich Urban District Council Peace Celebrations letter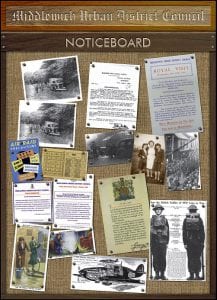 Middlewich Urban District Council Noticeboard (2)
Aircraft carrier
Enemy Uniforms at a Glance
A ladies march
Anti-tank emplacements
Gas mask instructions
Home Security Circular - Extra Smoke
The Anotomy of a Barrage Balloon
To view the panel click here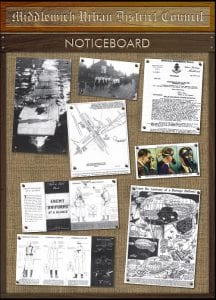 Middlewich Urban District Council Noticeboard (3)
Thanks Giving For Victory Order of Service
Descriptions of Flying Bombs
What to do if the invader comes
Photographs of staff at Vickers Armstrong and local scenes
Service cards & recruiting adverts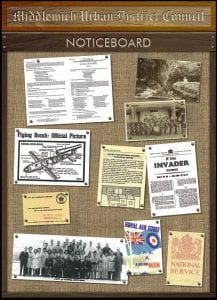 Special Report
Trials and Triumphs of Fighting in World War Two
William Moss - HMS Prince of Wales
Harry Gallimore - HMS Victorious
Robert Dickenson - Ayrshire Yeomanry
Jack Farrington - Royal Army Service Corps
This news sheet style panel tells of the experiences of these men in their own words, for example:
"I was in the damage control party; we were sent anywhere to see what had gone wrong. We got hit with torpedoes. When you got hit with a torpedo, it shook the boat, we got bombed as well. This chief mechanic in charge of us said would we have a look at top and see what was going on because all the communication had got knocked out."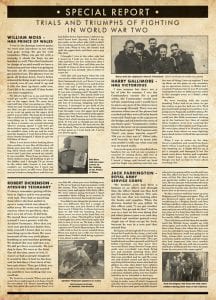 Middlewich WW2 Weekend Photographs
A selection of photographs taken during the Middlewich WW2 Festival in September 2010 by John and David Hudson. Special thanks for a fantastic weekend go out to: North West WW2 Association, UK Homefront, Blitz and Peaces, Fiona Harrison, The VCO Band, Julie Summers & Family, Paul Spence, Maureen Leverington and Gerry George.
This event could not have gone ahead without our volunteers, special thanks to each and everyone of you.
Local War-time Photographs
These photographs have been collected from the local community during the 'War at Home' project. We are always looking for more War material from Middlewich, if any of you out there have any that we can copy, please get in contact. Some photographs were used on the interpretation boards for the WW2 Weekend, but not all…Here are a selection of images given with permission to the project.
The Rolls Royce images were given to the 'War at Home' project to use by kind permission of Bentley. Thanks in particular to Andrew Robertson, Production Planning Manager. The images represent the set up of the Rolls Royce Factory in 1938 and the Royal visit a couple of years later, I've selected a few images to show on this website. Many Middlewich people worked in the Rolls Royce Factory during war-time and felt the loss as a bomber killed 17 people. The memorial to the people who lost their lives still remains at the factory close to the site of the bombing.
Allan Earl is also a large contributor and supporter of the 'War at Home' Project. Many thanks to Allan for giving his permission to use his images.
Click on any of the images below to open them in the image viewer:
The People Gallery features a selection of samples from the War At Home CD. The full CD runs for 65 minutes and is available from Middlewich Heritage (click here for contact details). A very special thank you to all the interviewees that took part in this project.
Middlewich WW2 Weekend - Historic Media Productions Video
This video footage by James Balme of Historic Media Productions gives idea of life in and around Middlewich during the war years. The film includes interviews with some of the people who lived in Middlewich during the 2nd world war.
Middlewich WW2 Weekend DVD Preview
This video shows some of the activities that took place during the Middlewich WW2 weekend during the 18th-19th September 2010. The full length DVD, recorded by a local resident and donated to the War At Home Project is available from Middlewich Town Council.
Middlewich Youth Theatre
This production was especially written around the interviews of the local community, presented and filmed for the "War at Home" project. The full DVD production lasts for approximately 23 minutes and this is a short demonstration of that DVD which will be made available by Middlewich Town Council.
Further Reading
The Colonel of Tamarkan - Julie Summers
The story of the Bridge on the River Kwai was loosely based the Second World War building of the bridge byThe Colonel of Tamarkan - Julie Summers. British prisoners of war, however the characters and there roles were fictitional.
The Japanese were skilled engineers and the main role of the real life colonel, Phil Toosey, was to ensure that the men under his command suffered as little as possible at the hands of their unforgiving captors. Toosey was a merchant banker in civilian life but had been an active officer in the Territorial Army since 1925. When he was caught up in Singapore, the worst military defeat in British history, he refused to take the easy way out and be evacuated to India but chose to remain with his men. His story is one of bloody-minded determination not to give up in the face of an implacable enemy.
This biography is written by Philip Toosey's grandaughter Julie Summers who is a writer, historian and broadcaster with a particular interest in the Second World War.